February 9, 2023
TOKYO – Kuraray Co., Ltd. (Headquarters: Chiyoda-ku, Tokyo; President: Hitoshi Kawahara) announced today that construction of a new plant for isoprene-related businesses has been completed and will soon start operations in stages. The construction was undertaken by Kuraray GC Advanced Materials Co., Ltd. (Headquarters: Bangkok, Thailand; President: Hiroshi Yamamoto) and Kuraray Advanced Chemicals (Thailand) Co., Ltd. (Headquarters: Bangkok, Thailand; President: Hiroshi Yamamoto).
The new plant is located in the WHA Eastern Industrial Park within the petrochemical complex in Map Ta Phut, Rayong Province, Thailand.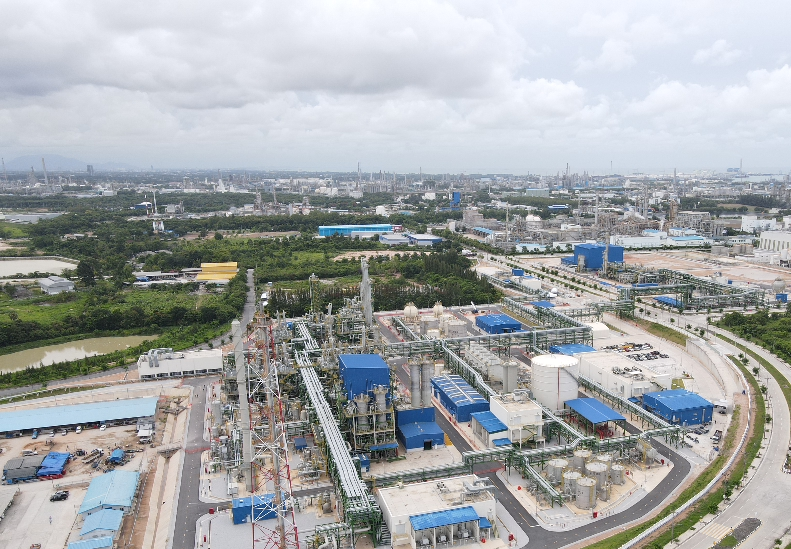 The new Thai plant will contribute to the continued growth of isoprene-related businesses by strengthening the global supply system and meeting rising global demand for the 3-Methyl-1.5-Pentanediol (MPD), SEPTON™ hydrogenated styrenic block copolymers (HSBC), and GENESTAR™ heat-resistant polyamide-9T (PA9T), which were developed using proprietary Kuraray technology.
Kuraray is implementing its medium-term management plan "PASSION 2026" as a five-year plan leading up to the centennial of its founding in 2026. The Company will continue to proactively invest in growth-oriented projects with the aim of realizing the long-term "Kuraray Vision 2026," namely, being a "Specialty Chemical Company growing sustainably by incorporating new foundational platforms into its own technologies and contributing to customers, society, and the planet."
About GENESTAR™
GENESTAR™ is a polyamide engineering plastic developed from a unique monomer. GENESTAR™ properties include low water absorption, high heat resistance, high chemical resistance, and dimensional precision. Its applications range from electrical and electronic parts to automotive parts. 

About SEPTON™
SEPTON™ is the brand name of high-performance styrenic block copolymer elastomer resins manufactured by Kuraray. SEPTON™ resins find widespread use in the automotive, appliance, consumer product, and sports equipment applications, as well as in polymer modification and adhesives.
About Kuraray
Kuraray is a global specialty chemicals company that launched in 1926 and is now one of the world's largest suppliers of industrial polymers and synthetic microfibers. Headquartered in Tokyo, the company focuses on collaboration and innovation to develop unique product solutions that bring about change for the benefit of all. Kuraray's line of industry-leading materials – including chemicals, fibers, resins, and more – serve to enhance quality of life around the globe and lead to a more sustainable future. Learn more about Kuraray at kuraray.com.
# # #
On-Site Media Contact:
Jessica Kuhlman
jessica.kuhlman@kuraray.com
281-508-2431
General Media Contact:
McKenna Parr
McKenna@griffincg.com
281-335-0200