SentryGlas® and Trosifol® both make up the complete Kuraray portfolio. Each product brings a unique and special characteristic to the table and serves the architectural and automotive market differently.
SentryGlas® Interlayer for laminated safety glazing outperforms other current technologies in laminated glass by offering five times the tear strength and 100 times the rigidity of a conventional PVB interlayer. Originally developed for the hurricane glazing market, SentryGlas® Interlayer is used in applications where high-performance glass is required such as security and structural glazing, bomb blast, ballistics and marine vessels. Glass producers and laminators require interlayers to be supplied either in sheet form or on rolls and fortunately SentryGlas® Interlayers are available in both formats.

SentryGlas® is a registered trademark of Kuraray America, Inc.
About SentryGlas® ionoplast interlayers
SentryGlas® was initially developed for  hurricane glass glazing applications in the United States. Made using ionoplast polymer technology, SentryGlas® is chemically different from PVB (like Trosifol and Butacite), making it water resistant, clearer and stronger. With its superior strength to traditionally laminated glass, SentryGlas®  set a new standard in strength for lamination and has continued to lead the industry. It has since expanded its use, as structural engineers have recognized that the performance benefits developed for hurricane applications could also be beneficial for many other aspects of a building. This includes facades, overhead glazing, balustrades, doors and partitions. Today, many modern architectural buildings use SentryGlas®  to create new, and less framed glass structures.
The SentryGlas® interlayer is five times stronger and up to 100 times stiffer than conventional laminating materials. With this kind of strength, SentryGlas® opening up design possibilities that didn't exist before.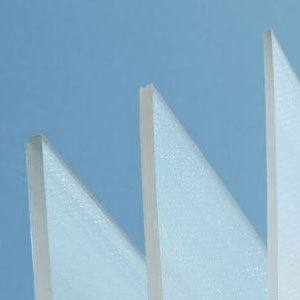 Specifications
Safety
Security
Durability
UV Control
Safety glass for rigs, refineries, tankers, and ships
Hurricane glass
Transportation glass
Security glass