As a responsible corporate citizen, Kuraray seeks opportunities to contribute to the success of our plant communities both financially and through the active volunteer participation of our employees.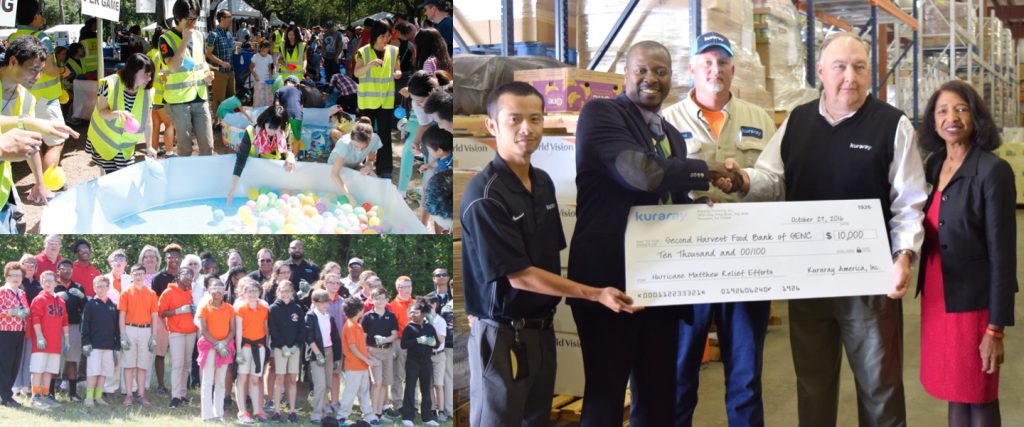 Corporate Contribution Guidelines:
Kuraray America, Inc. (KAI) will consider charitable contributions to eligible nonprofit organizations and academic institutions with priority consideration given to organizations serving in or near U.S. communities where KAI has a major presence. Guidelines for the administration of our corporate contributions program can be found in our Corporate Donations Policy.

We believe that leveraging our financial contributions with the volunteer talents of our employees leads to stronger, more vibrant relationships in the surrounding communities, so we give preference to projects that include employee involvement.Through donations to charities and educational institutions that contribute to the well-being of communities and individuals, KAI assumes a global stance as a generous and engaged corporate citizen. Focus areas for funding are:
Education
KAI supports a wide range of educational projects, but is especially interested in supporting K-12 programs that enhance STEM skills. We believe that these skills may lead to interest in technical careers among students.
Health, Safety, and Environmental
KAI values the importance of keeping our neighbors safe. Our funding is directed towards community safety and fire prevention, disaster preparedness and recovery, and societal health and wellness issues. KAI contributes to the preservation of natural resources and recognizes the importance of conserving our environment. As part of our commitment to environmental stewardship, we support projects that restore and protect critical ecosystems as well as those that address water and air quality.
Japanese Cultural Initiatives
KAI funds a broad range of projects that promote greater cultural understanding between the people of both the United States and Japan.
ELIGIBILITY CRITERIA:
---
KAI supports a wide range of charitable organizations that are tax-exempt in the United States, under Section 501(c)(3) of the U.S. Internal Revenue Code. KAI will not consider contributions for the following purposes:
Individuals
Private foundations
Personal trusts
Donor advised funds
Capital campaigns
Endowment funds
Political organizations
Religious organizations that do not serve the general public on a non-denominational basis
Organizations that do not comply with KAI's non-discrimination policy
Organizations that do not comply with the USA Patriot Act
Note: Funding decisions are based on available resources and eligibility and at the sole discretion of the Company.
OTHER GIVING OPPORTUNITIES:
---
Our Matching Gift and Volunteer Grant programs enable employees to direct a portion of the company's giving program through individual employee investment. This investment can be financial or through volunteering personal time.  Documents for applying for a Matching Gift and Volunteer Grant are available to employees on the company intranet site.
Kuraray's employees, through their generous spirit and willingness to be involved, are a natural extension into the surrounding communities. Through this avenue we are able to foster open communication and a mutual focus on shared goals.
Recently, Kuraray has been involved in throughout our community in the following ways:

Helped build a home with Habitat for Humanity
Sponsored and helped clean up during Trash Bash within the Houston area
Participated as judges for local Science Fairs
Hosted foreign exchange students who are interested in STEM for plant tours and explanations
Involvement with local Robotics Team
Hosted a booth at the Girls Exploring Math and Science booth for Houston Museum of Natural Science
Engineers hosted a booth and participated in the Rockets to the Rescue activity at local STEM fair
Hosted a rest stop during the Deer Park Bike Rally in the Houston area
To request volunteers for your upcoming event please email CorporateCommunications.US@kuraray.com.