Barrier Layers in Packaging
Offer Specific Protection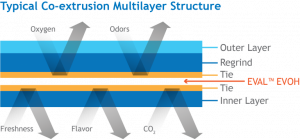 For food packaging, barrier layers within
packag

ing add shelf life with refined and
specific oxygen, aroma, and flavor barrier
properties. Common barrier layers are ethyl
ene vinyl alcohol (EVOH), metallized films,
and aluminum foil. Due to its exceptional
chemica

l resistance and oxygen barrier
properties, EVOH is commonly layered with
polyethylene (PE) and polypropylene (PP)
and used 

within laminate structures.
Interestingly, EVOH is water-sensitive; the
layers of PE and PP protect EVOH from
water, and PE provides an excellent
sealability. The barrier properties of EVOH can be leveraged throughout the entire food distribution chain. 
Read More of this article from Food Technology Magazine and the Institute of Food Technologists (IFT)
Learn More about EVAL™ EVOH.