FOR IMMEDIATE RELEASE
November 18, 2019
HOUSTON – Kuraray America, Inc. (Kuraray) today announced the company has been recognized as one of the "Top Workplaces for 2019" by The Houston Chronicle. This is the first time Kuraray has appeared on the annual list.
"We are grateful to our exceptional people who influence our workplace culture and shape our business. It's an honor to win any kind of award, but when it comes as a direct result of the feedback from our team members, the recognition is even more meaningful," said Kuraray's Director of Human Resources, Tom Tonan.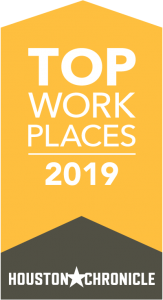 "Creating a workplace culture where our employees feel valued is one of our top priorities. Achieving this recognition tells us that together we are making Kuraray a great place to work. I'm so thankful to be a part of this positive and high-performing team. On behalf of the Leadership Team, I'd like to thank each Kuraray team member who has worked so hard, helped us change and grow together, and made it possible to earn this award."
This year's Top Workplace selections come from the 2019 results of employee engagement surveys administered by Energage, a leading research firm that specializes in organizational health and workplace improvement. In spring 2019, local employees were asked to nominate their company. Through surveys conducted between April and July, workers rated their companies in areas such as the potential for advancement, work schedule flexibility, communication, pay/benefits and leadership. Only 150 Houston-based companies made this year's list! Kuraray is especially proud of this award because it is entirely employee-driven.
Headquartered in southeast Houston, Kuraray America, Inc. has more than 525 local employees, and over 750 employees nationwide. With four plants in the Houston area, the company is a global leader in specialty chemical, fiber and resin production. For more information, visit www.kuraray.us.com.
About Kuraray
Founded in 1926, Kuraray is a world leader in performance-based polymer and synthetic chemistry technologies, including resins, chemicals, fibers and textiles. Kuraray generated $5 billion in sales in 2018 and has over 10,000 employees serving customers in over 100 countries worldwide. The company operates 77 consolidated subsidiaries globally, including Kuraray America, Inc., headquartered in Houston, TX.
# # #
MEDIA CONTACT:
McKenna Parr
Griffin Communications Group
(281) 335-0200; mckenna@griffincg.com